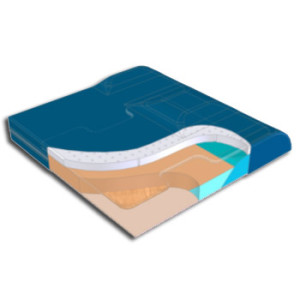 ESP Series Wheelchair Cushions
$289
ESP Series Wheelchair Cushions combine the added comfort of memory foam with a Pre-Ischial bar to help secure the pelvis to prevent posterior pelvic tilt and hip rotation. Its high compression abductor and adductors comfortably position the legs and will not interfere with transfers. The top layer protects the popliteal angle, and provides exceptional comfort, while the low profile is ideal for foot propellers and maximizes the range of motion and function.
A Baltic Birch Insert eliminates seat hammock and helps prevent pelvic obliquities. The incontinent nylon stretch cover is non-allergenic, bacteria resistant and wipes clean to help prevent cross infections. A non-skid bottom prevents cushion travel. A specially priced, additional cover is available at time of purchase.
Height: 2 ¾" contoured surface
Sizes:
• 16" x 16"
• 16" x 18"
• 18" x 16"
• 18" x 18"
Custom sizes are available by quotation.
Come visit us on April 13th to review the lineup of Joerns Healthcare products, including the Easy Care Bed! As always we will be serving up some delicious food from The Dirty Apron Deli! As a premier supplier, Joerns Healthcare is revolutionizing healthcare through an unmatched suite of advanced injury and wound prevention, patient […]
Check out the new and interesting items we found at the International Seating Symposium!
Jane Fontein, occupational therapist with 30 years of experience, will visit Macdonald's Home Health Care on January 20 to review the newest addition to the Vicair wheelchair cushion line – the Vector O2 washable cushion. As always we will be serving up some delicious food from The Dirty Apron Deli! Jane Fontein has been an Occupational Therapist for more […]