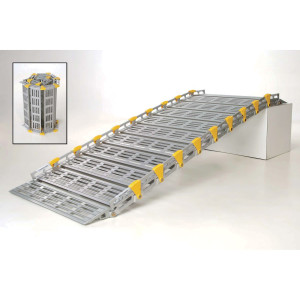 * All prices subject to change.
Roll A Ramp – Portable Ramp
Roll-A-Ramp® is the most portable and versatile ramp available. We offer four different widths which will be built to the length you need. This is an excellent alternative to expensive chair lifts or permanent wooden ramps. Roll-A-Ramp® is also great for anyone looking for a superior quality access ramp for wheelchairs, scooters, walkers or any use. A great option for a temporary ramp.
Unique Design – Patented link construction means you will never have the wrong size ramp. Simply add additional links to change length with the simple tools provided with your ramp. Just roll it up and go!