SonderCare Sequoia Bed
$6999.00
The SonderCareTM SequoiaTM Bed is like nothing else on the market today. Designed to conform to the latest international standards, SequoiaTM provides you with a sense of safety, comfort, and greater independence than standard flat or adjustable beds.
Height Adjustable
Most other adjustable lifestyle beds do not move up or down, let alone provide the ultimate height range of the SequoiaTM. The ultra low height offers a safe sleeping or resting level for those at risk of falling, while the exit height encourages a safer way to get in and out of bed by allowing users to firmly plant feet on the floor
Infinite Positions
The SequoiaTM bed can achieve virtually infinite positions, with individual Backrest, Knee, Height Range, Chair, and Tilt operations.  The Auto-Contour function operates the Backrest and Knee simultaneously, making for a comfortable position to read, watch TV, or simply relax.
Illuminating Hand Controller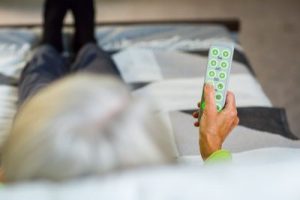 The simple Hand Controller clips conveniently onto the rail or into its specially-designed holster. All bed operations (backrest, knee, chair, height range, and tilt) can be adjusted with the touch of a button. The buttons illuminate for easy visibility in dark settings.
Integrated Bed Extension
Designed to comfortably accommodate users of most heights with a tool-less 8″ integrated bed extension.
Assist Rail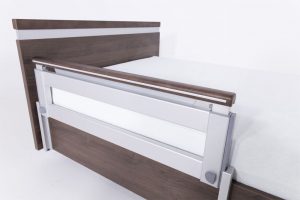 Space-saving Assist Rails are adjustable into three different positions depending on the desired level of security: Protection, Assist, or Rest. The natural wood-capped rails are easy to hold and provide assistance and unencumbered access for getting into and out of bed.
Comfort Deck
For added luxury, the patented Comfort Deck system uses 50 individually flexing composite springs to achieve optimal support and relief.
Easy Mobility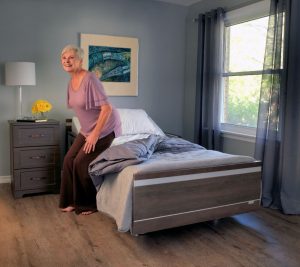 The SequoiaTM Bed is equipped with hidden casters to make moving the bed simple and easy, while maintaining a sleek, clean design.  Simply press the brake pedal to lock or unlock all of the casters.
Woodgrain Finishes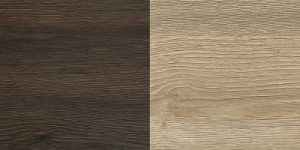 The natural wood-capped rails, headboard, and footboard fit any room décor, creating comfort and well-being for users and family members.  Choose from two elegant woodgrain finishes – classic dark Espresso or modern light Driftwood.
Sequoia Bed in Driftwood Finish
9.8″ low position
13″ transfer position
32″ working height
Safe working load of (500 lbs)
Reclining surface: 39″ x 79″
External dimensions: 40.5″ x 81″
Space-saving, vertical side rail
Integrated 8″ bed extension
Four-section reclining surface
Automatic comfort seating mechanism
Installation and Delivery Pricing
Anything that needs to be installed can be done by our trained technicians and installers. Have us do the work for you!
Installation and Delivery Zone Table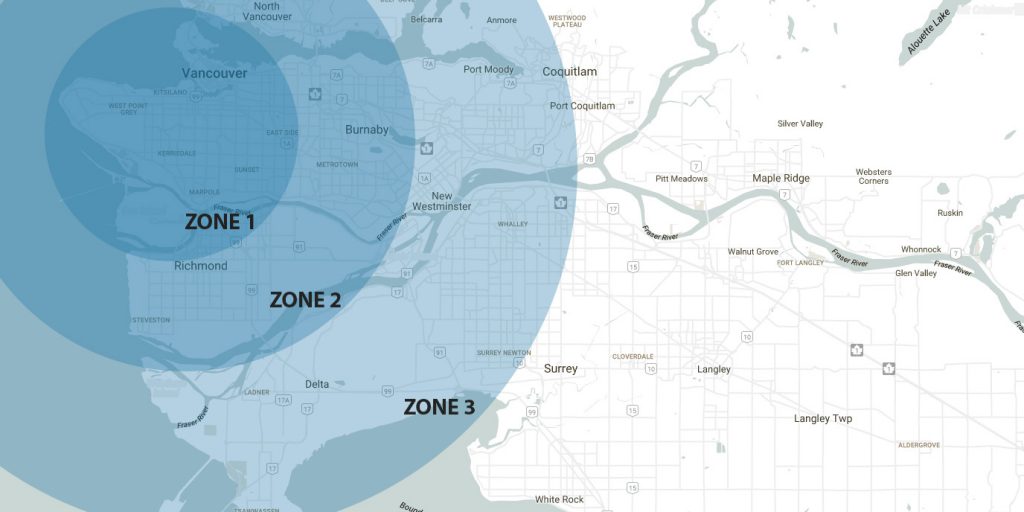 We offer a range of different services to suit your home health care needs. Everything we sell on our site comes with installation and delivery; a quality service given by our team of trained technicians and installers.
We install everything we sell. Have us do the work for you; our highly trained technicians and installers can install your equipment when you need it and where you want it.
If you're not sure which product will fit into your home, our trained staff can bring multiple options to your home so that you can select the best one.
Pricing
Installation Rates
| | |
| --- | --- |
| Setup by a Macdonald's Trained Technician or Installer | Call out Rate |
| Zone 1 | $55 |
| Zone 2 | $75 |
| Zone 3 | $95 |
| Zone 4 | $115 |
| | |
| --- | --- |
| Basic set up* | $20 |
| Standard set up** | $50 |
| Set up and training*** | $75 |
*Basic Setup includes delivery and setup to client specifications of equipment not requiring installation. eg. bath seat, bath transfer bench.
**Standard Setup includes anything that requires installation or removal. eg. handheld shower, bolt-on toilet seats, removing toilet seat bolts, removing shower doors.
***Set up and training includes items like patient lifts, Roho mattresses, low air loss mattresses. Products that require training time.
Our Rehab Store at 148 West 6th Ave has a showroom for larger mobility devices, a workshop, and our talented staff to help you with questions or repairs. Come to the Rehab Store if, for example, you're looking to try out a wheelchair, scooter, lifts, or get repairs on a mobility device.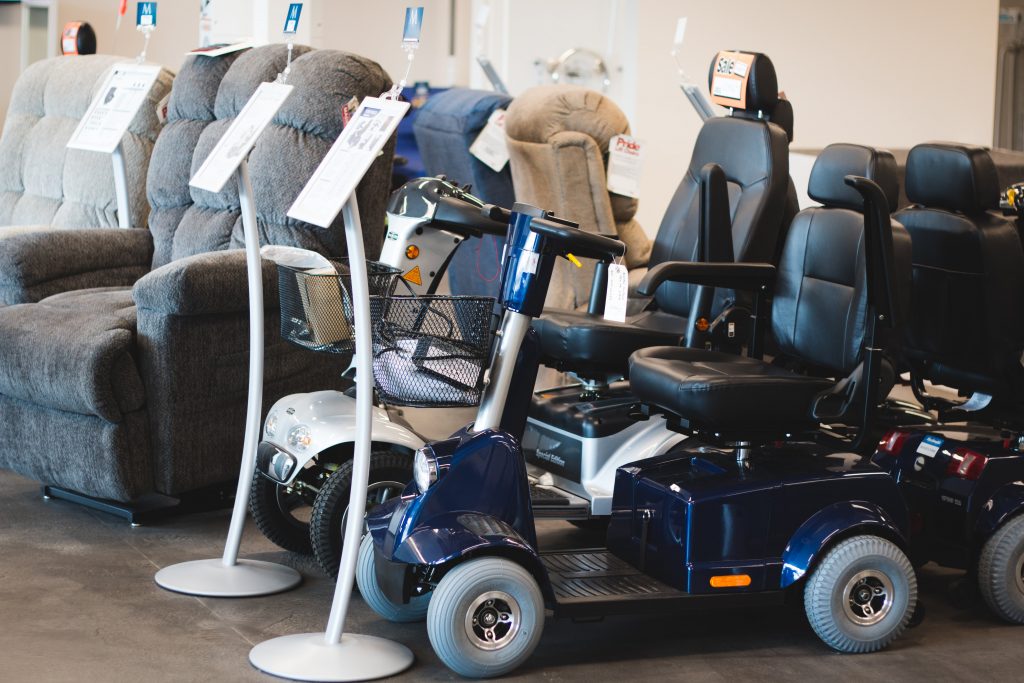 Store hours:
Macdonald's HHC Rehab Store –  148 West 6th Ave
Monday to Friday,  8 a.m. – 5 p.m.
Closed on Holidays and weekends
Our Holiday Homecare Bed Sale is on now! With discounts of up to 20% you could save $800!
Your Partner in Comfort and Mobility Don't forget our Blog series! Now that spring break is behind us, let's get back to the learning! Three Must-Have Bathroom Aids for a Senior-Safe Bathroom 10 Inexpensive Gadgets as Aids to Daily Living MHHC's Guide to Mobility Scooters MHHC's Guide to Choosing the Right Manual Wheelchair […]
Come visit us on April 13th to review the lineup of Joerns Healthcare products, including the Easy Care Bed! As always we will be serving up some delicious food from The Dirty Apron Deli! As a premier supplier, Joerns Healthcare is revolutionizing healthcare through an unmatched suite of advanced injury and wound prevention, patient […]