TRAM
Lift. Ambulate. Transfer.
The Rifton TRAM is a transfer and mobility device designed to deliver three powerful functions in one compact unit: gait training, sit-to-stand transfers and seated transfers.
The TRAM offers far more utility than a standard patient lift at a remarkably low price.
The Benefits:
An ultralight compact frame that's easy to maneuver in tight spaces
Intuitive controls and adjustments, making it simple for a single caregiver to operate
A body support system that eliminates any lifting by the caregiver, reducing back strain and workplace injuries
350-pound weight capacity and a powerful battery drive that can deliver over 70 lifts on a single charge
An optional built-in scale, allowing you to weigh your client while performing a routine transfer
Capable of lifting and transferring patients of varying abilities and body types, the TRAM features an innovative, patented support system that secures the patient with a simple buckle. This enables the caregiver to quickly prepare the patient for a safe transfer.
At just over seventy pounds, the TRAM's compact, ultralight frame is maneuverable in small or confined areas, as well as simple to transport or store. Quickly adoptable by multiple caregivers, the TRAM's intelligent engineering significantly reduces back strain and stress – providing a smarter and safer environment for workers.
Body support system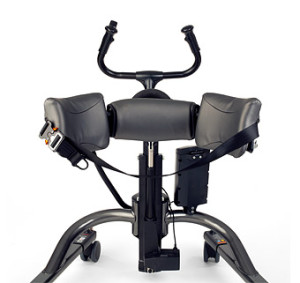 Rifton's TRAM features an innovative support system that secures the patient with a simple buckle. This simplicity enables the caregiver to prepare the patient quickly for a safe transfer. Unlike other patient transfer devices, the TRAM has no slings and requires little or no preparation to transfer clients.
Optional scale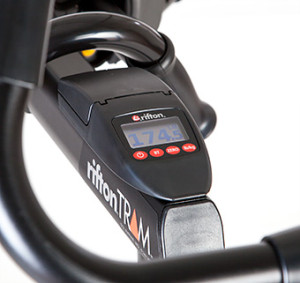 The TRAM's optional scale allows the caregiver to weigh a patient easily during transfer, as well as measure weight-bearing capability and progress, during supported ambulation.
Note: Purchasers must decide on the scale option at the time of purchase.
Built-in up & down switch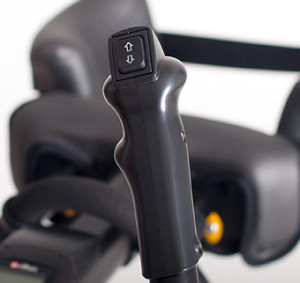 Raise and lower the TRAM using the single button built into the right steering handle. When the TRAM is being used as a sit to stand device, the caregiver can pull back on the handle to help raise the patient.
Three stage riser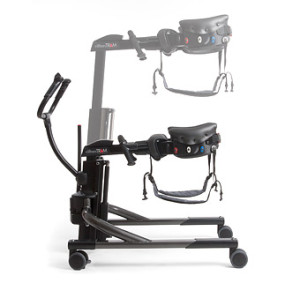 The carefully engineered, telescoping lift column gives the TRAM its low profile providing patients in the transfer device with the security and dignity of unobstructed eye contact with their caregivers and surroundings. The TRAM can be raised high enough to support a 6'4″ walking client and then retract down to 43.5″ for compact storage.
Expanding legs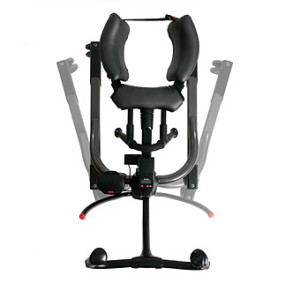 Compact and low-profile, the TRAM can pass through a 28″ doorway with ease. Transfer in and out of the new, wider wheelchairs by rotating the leg expander. Lockable front casters make the TRAM a mobile, yet secure piece of patient transfer equipment.
Color-coded clips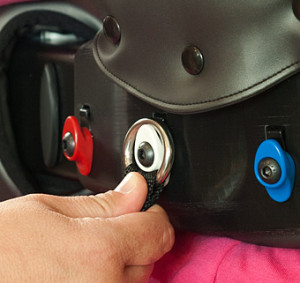 Caregivers can quickly hook the metal rings into one of the TRAM's four color-coded clips. The clips have been color-coded for positive identification in written protocols.
Low-base option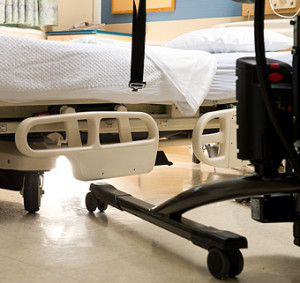 With a 3″ caster and lower frame base, the low-base TRAM does everything the standard Rifton TRAM does, plus it slides under beds with as low as 4¼" clearance. This option was designed for care environments where hospital bed floor clearance would hinder use of the standard TRAM.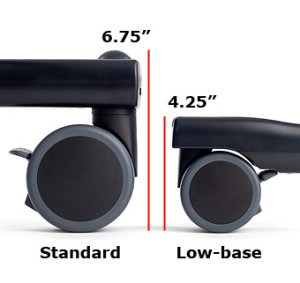 The standard TRAM caster as compared to the low-base TRAM caster.
Scale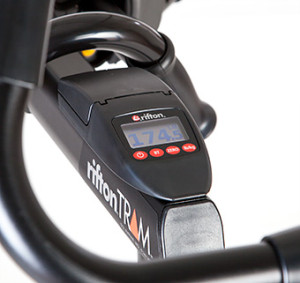 The TRAM's optional scale allows the caregiver to weigh a patient easily during a routine transfer, eliminating that special transfer just for the purpose of weighing. In addition to providing medical transfers, the TRAM with scale, during supported ambulation, can measure how much weight the client is bearing, allowing the caregiver to measure and track weight-bearing capability and progress. More than just a disability scale or transfer scale, the TRAM with the optional scale becomes an extremely valuable piece of equipment.
Note: The scale must be included in the original purchase. It cannot be added later.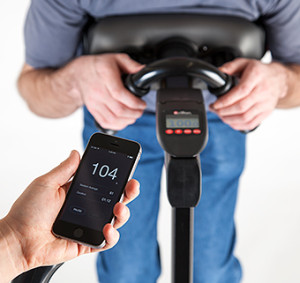 If the scale is paired with a tablet or phone via Bluetooth, the Gait Tracker App can track the client's weight bearing progress.
Watch the Gait Tracker App video to learn more.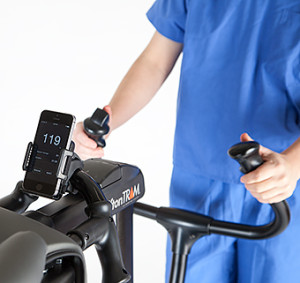 An iPhone or iPad can be attached to the client handle using a bike handlebar mount, allowing the client to see their progress.
Switch pole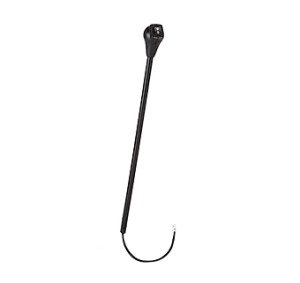 The switch pole lets a caregiver operate the electric lift without bending down (when not using the front handle).
The switch pole can also be turned around to give the client control of the lift.
Forearm supports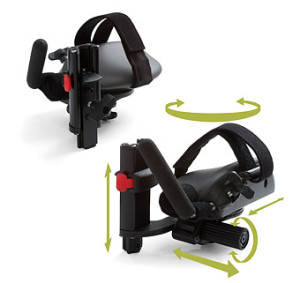 Forearm supports are used to give extra lifting support for clients who have low tone or for clients who need their arms secured. The supports allow adjustments in every direction and angle to accommodate numerous positioning requirements. Forearm supports would also be an appropriate accessory if the TRAM is going to be used as part of ICU physical therapy after a stroke.
Forearm support dimensions:
Padded surface area: small: 4½" x 7″ large: 5″ x 8½"
Range of adjustment (elbow to fist):
small: 8″–12½" large: 10½"–16″
Arm platforms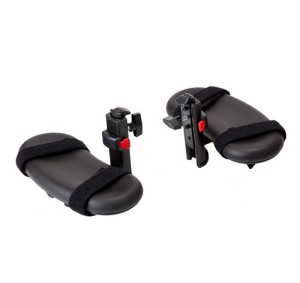 Arm platforms offer a simple alternative for clients who need less arm positioning. They attach to our adjustable arm prompt base and are made of an integral skin foam for padded comfort and easy cleaning.
Pelvic support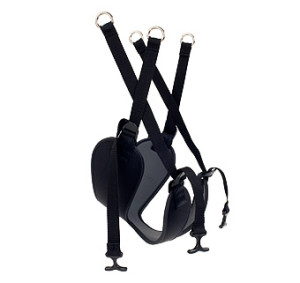 The pelvic support, available in three sizes, is used for sit-to-stand transfers and supported ambulation. Quickly hook up the pelvic support by attaching the rings to the color-coded clips. Note that the pelvic support may fit the patient best when the straps are crossed as shown in the photo. As well as providing support for ambulation, the pelvic support makes the TRAM an excellent device to provide early mobility in the ICU and for ICU physical therapy after a stroke.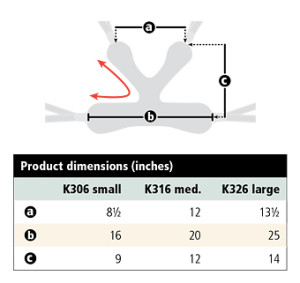 Key user dimension: (indicated by the u-shaped arrow in the photograph)
Half of thigh circumference:
Small: 6″ – 10″
Medium: 8″ – 14″
Large: 10″ – 18″
Hip positioner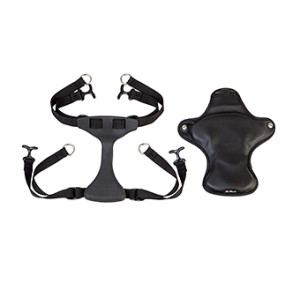 The hip positioner is designed to encourage good positioning for gait training. It enables natural pelvic movement and lower extremity weight-shifting, and provides good abduction.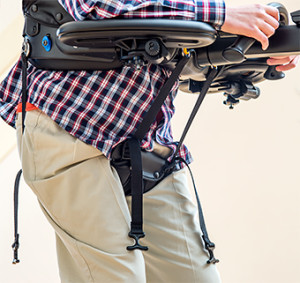 A pad is available for extra comfort.
Additional battery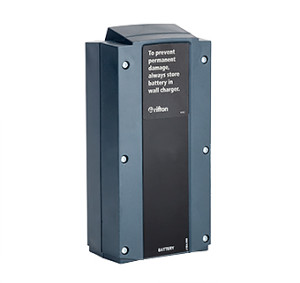 An additional battery may be needed in settings where frequent medical transfers are being made each day. A fully charged battery should deliver approximately 70 complete lift cycles depending on user weight.
Additional thigh straps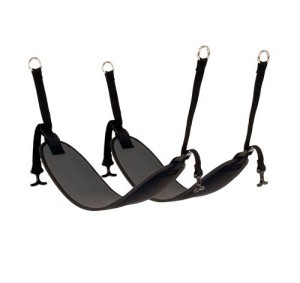 Thigh straps are used to make seated transfers. Choose either narrow (5″) or wide (7″), depending on the needs of your client. Additional straps can be purchased for individual clients. Made of water-resistant nylon, the straps can be quickly attached to the TRAM's color-coded clips.
Swivel locks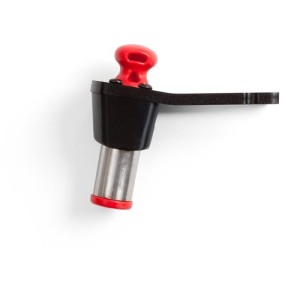 Swivel locks for the casters make it possible to roll the TRAM straight down the hall without drifting laterally. The locks can be inserted into any or all of the four casters, although two should be sufficient to ensure a straight path. With the lock released the casters are free to swivel, allowing for maneuvers in tight spaces. If the TRAM is going to be used for early mobilization in the ICU, swivel locks would be advisable.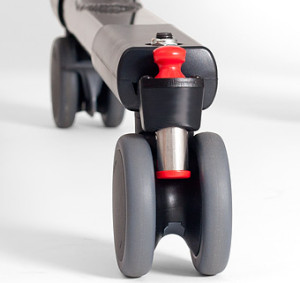 The swivel lock on a standard TRAM.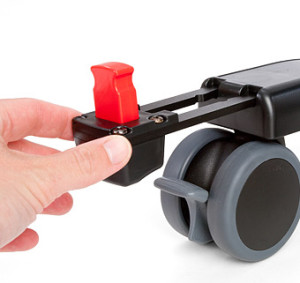 The swivel lock on a low base TRAM.
Removable back belt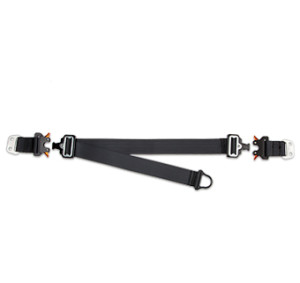 For settings where infection control is critical we offer an alternative back belt with a clip at both ends for easy removal and sanitation.
Maximum circumference remains at 60″.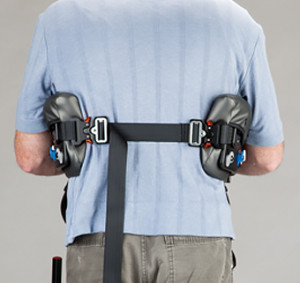 Users should note however, that the removable belt adds approximately 4″ to the body support circumference at its smallest (from 22″ to 26″).
Dimensions & technical specifications
Use these charts to determine which Rifton TRAM is the right choice for your client or facility.
Important: User's weight must not exceed the maximum working load.
Key user dimensions (inches)
Rifton TRAM

(K310)
22 – 60

Rifton low base TRAM

(K320)
22 – 60
Item Dimensions (inches)
Overall length
45½
45½
Overall width
27½ – 46
27½ – 46
Overall height
43½ – 58
43½ – 58
TRAM weight
70 lbs
70 lbs
Turning diameter
50
50
Floor to top of base leg for furniture clearance
6¾
4¼
Minimum user armpit height (when standing or ambulating)
30½
30½
Maximum user height (when standing or ambulating)
76 (6'4)
76 (6'4)
Maximum working load (lbs)
350
350
Technical specifications
Lifting speed
1½ inch/sec with no load
Batteries
12V, 2.9 Ah valve-regulated lead-acid gel-type batteries. (Replacement batteries available from Rifton.)
Battery charger
Wall-mounted charger, 100 – 240 V AC, max 650 mA
 Motor
24V, 6A, permanent magnet motor
Emergency lowering
Electrical
Wheels
Front: 100mm dual with brake; Rear: 100mm dual
| | |
| --- | --- |
| Rifton HTS bases | Dimensions (inches) |
| Z112 / Z122 (small/medium) tilt mobile base footprint |  31 long x 21  wide |
|  Z113 / Z123 (small/medium) non-tilt bases footprint | 28 long x 20  wide |
| Z132 (large) tilt mobile base footprint | 33 long x 22½ wide |
|  Z133 (large) non-tilt base footprint | 29 long x 21 wide |
|  Z139 portability base | 16½ long x 21 wide |
| | |
| --- | --- |
| Side view | Top view |
| | |
Learn more about the Rifton HTS using the resources below.