Walking Backwards
December 21, 2022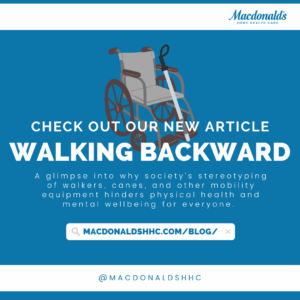 Walking Backward
By Ammarah Siddiqui
Mobility Aids – MA
Stereotypes relating to people with disabilities and those using mobility equipment are prevalent in mainstream media and social discourse even today, perpetuating a, "model that … sees disability as an individual problem that .. needs to be cured." (Momene, 2015) This harmful and incorrect idea not only isolates individuals but furthers ageist and ableist sentiments without giving a voice to those stereotyped.
A study conducted by the VA Medical Centre under pubmed.gov explores the perspectives of diverse background seniors on their use of MAs. The objective was to explore the ranging attitudes toward Mas based on race, ethnicity, and related beliefs. As background, the study details that little research has been done regarding seniors' attitudes toward MA, which lends another example to the underrepresented nature of this subject. (Resnik, 2009) Across all ethnic and racial groups the study proved that the "perceived benefits … in maintaining independence and control produced positive attitudes," however the relation between MA use with "aging and physical decline" produced adverse and anti-MA sentiments among subjects. In specifically Black and Hispanic participants their was great concern regarding MA use contributing to negative biases and instead individuals preferred more "fashionable aids" to combat this stereotyping. The study concluded that "social pressures and perceived stigmas" deterred MA use and alternately, that positive representation, modern, appealing MAs, and physician involvement would promote their usage across all groups. (Resnik, 2009) This lends to how important diverse, and positive representation that depicts a range of mobility narratives is critical in media and for mobility and home health care companies to provide a range of models and size inclusive equipment. It is also equally critical to have knowledgeable MA providers and physicians (link to about us page) guide the user in their search for aids that fit their needs and wishes, an aim we work toward everyday at Macdonald's HHC.
However, no matter what age a MA user is, stereotypes can significantly impact the safety of those that fear how they will be perceived. Dr. Eleanor. F Barbera writes her own theoretical movie plot of how this could be exemplified, "two residents meet in rehab.. complete physical therapy .. one friend.. us(es) his walker around home and his rollator ..for longer distances, handling comments. The other friend tries to get around ..without his walker and is embarrassed to be seen with even a cane. He falls, and the first friend comes to visit him in the hospital. The end." Although concise this scenario shows just how damaging negating MA use can be for individuals and on the flip side, how it can lend to a safe lifestyle.
"It's your health" reads the Canadian Government website under the sub-subcategory of Assistive Devices, a slogan that iterates the importance of mobility assistance and aids for personal autonomy and well-being. The webpage goes on to describe how particularly aging may create elements of fear and discomfort in daily tasks and how use of assistive devices can combat this. Such discourse on a government website is a step in the right direction as it opens conversation about MA and the normalcy and importance of their use.
Continuing this conversation and education is part of what we do at Macdonald's HHC as we realize how, while media today has not come as far as it should with demoting stereotypes and incorrect associations, we can work everyday to offer the equipment necessary and the expert advice to ensure your safety. Mobility aids change lives one move at a time and the stereotypes that surround them move us all backward, lets work to change the narrative and advocate for safety first.