Technology and Brain Simulation for Seniors
October 5, 2015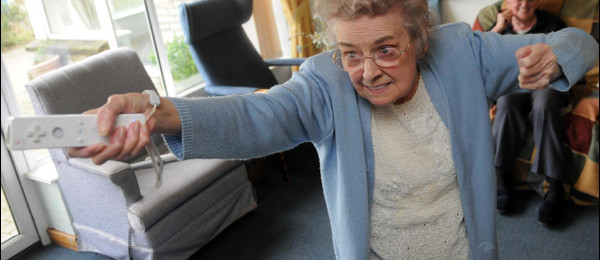 A recent study by the Cochrane Dementia and Cognitive Improvement Group claims that certain cognitive exercises and games can help to reduce the symptoms of Alzheimer's and dementia. Hence, whether you're a professional care taker or a compassionate family member, it's extremely important you engage with your patient or loved one and help them keep their mind active. Here are some simple ways to increase brain stimulation for seniors which we believe are vital for anyone interested in aging in place.
Surfing the Web for Fun
Since your loved one will no longer be driving every day, going to the office, or doing those other routine tasks that exercise their brain, it's important to create a new set of exercises that will challenge them. One of the simplest ways to offer brain stimulation for seniors is to surf the web with them. It's something that many of us take for granted, but the Internet can be a great tool to stimulate brain function, increase cognitive abilities, and improve memory. An easy way to start exploring on the web is to work with your senior, or have them work with their caregiver, to come up with a topic that interests them. Have them research that topic and tell you about it at the end of the day, or after a few hours. Just be sure that they know not to give out any personal information, and how to stay safe while on the net.
Utilizing social networks can also be a great tool for seniors aging in place to stay in touch with their friends and loved ones. Keeping in contact with friends and family via sites like Facebook, Twitter, or other forms of social media can help increase cognitive function as well. Interacting on social media may also help combat any loneliness that they might be experiencing as they get older and develop a more limited sense of mobility. Aging in place isn't always easy, and it's important that your loved ones have the chance to stay connected.
Using Video Games to Stay Sharp
The coolest thing about using technology is that it stimulates the memory, so it can be a great tool for those suffering from Alzheimer's or dementia. You never know what might trigger a memory, and playing computer or video games can be a great way to stimulate cognitive function and fight memory loss.
Simple games such as pong or centipede are a good start for patients to practice with and build up their abilities. If they're interested in history, and seem drawn to gaming, then maybe try something more complex. There are also a lot of games available now that are interactive and require a certain amount of exercise, which can be a great way to keep your aging senior active. Ultimately, it's up to your loved one to choose which games they'd like to play, but if they seem to have a knack for it, add it to their regular routine. Of course, card games and board games are also a tried and true method of brain simulation for seniors. To find a few more ideas of how to spend time with your loved one suffering from dementia, check out this site.
Geo-Caching to Boost Cognitive Ability 
For those aging in place that are a bit more active, going on scavenger hunts around the home and yard is a great way to get a little bit of physical, and mental exercise. This type of brain stimulation for seniors is one of the easiest and most fun things to do with them if you're a caregiver. Geo-caching is also a great way for your aging senior to get together with their friends in the area. Using GPS technology, seniors can get together and go one scavenger hunts around the home or in the neighborhood. Basically, you can provide a list of points or coordinates, coupled with clues, that will help them have an awesome scavenger hunt. You can place little gifts, or notes for them a long the way, or have them be centered around historic landmarks. This type of activity is meant for more active seniors, but it's a great way to improve cognitive development for seniors, and also spend some time with the grand kids.
To learn a bit more about geo-caching, go here.
Using Apps While Aging in Place
There are quite a few apps available that go farther than video games in stimulating cognitive development, and some of them are actually designed to stimulate the brain. A lot of tablets and smart phones come with some great brain training apps nowadays, such as the Fit Brains Trainer; an iOS app that was developed by the creators of the language program Rosetta Stone. Fit Brains was designed and created by neuroscientists to improve memory, focus and cognitive speed by using specialized games and exercises. It's also compatible with nearly any device. Although it costs a little more than the free brain game apps available online, it's well worth it.
Although it's not specifically designed for brain training, Words with Friends is a great app that definitely helps you exercise your cognitive functions. This app, much like Scrabble, allows you to connect with your friends online to play word games. It's a great way to work on your memory and problem-solving skills. Additionally, it's another way your aging senior can interact with their friends without ever leaving the home.
More apps for improving cognitive function in seniors:
Other Home Health Care Technology 
Developments in home health care technology are pushing the industry forward at a rapid pace, and not just by providing more ways to boost cognitive development for seniors. New technology is also a great safety tool for the elderly and caretakers alike. Staying home as you age poses difficulties, especially if you spend a fair amount of time alone.
However, in case of any serious emergency, there are a lot of home health care technologies available that allows patients to call for help, such as cell phone applications, computer alert systems, or even medical bands designed to monitor patients.
For more information on home health care technology and how it may help you, a patient, or a loved one age in place, please read this article, and feel free to contact us for any more information.