Power Wheelchair vs. Mobility Scooter: Which Is Right for You?
July 19, 2015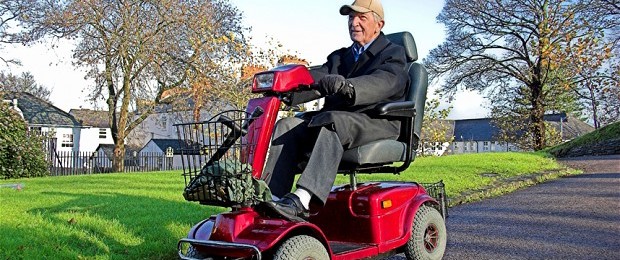 As we age, our mobility naturally begins to decline and it becomes a little harder to get around. Many seniors may even have some health issues such as mini-strokes, dementia, or a variety of other disabilities that prevent them from being able to walk at all. Luckily, with the aid of a power wheelchair or mobility scooter seniors are able move around relatively freely and easily again. However, there is an extremely wide variety of power wheelchairs and mobility scooters on the market with features equipped for just about any situation, so it can be hard to decide which one will work best for you or your loved one.
Read on for a brief overview of both the power wheelchair and the mobility scooter, their advantages and disadvantages, and how you can figure out which one will be best for the user's unique living space, lifestyle, and budget.
Power Wheelchairs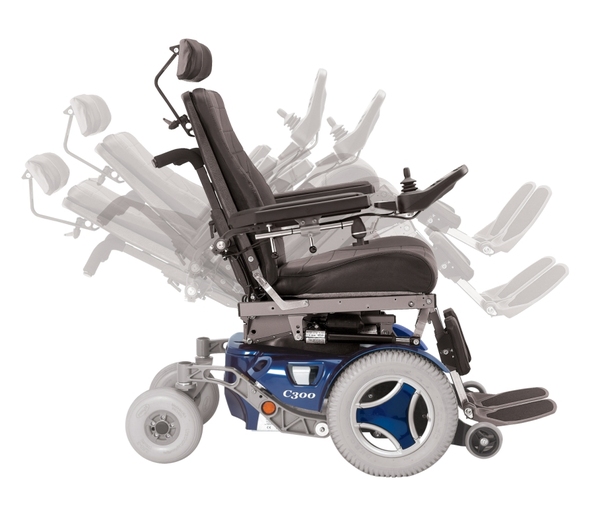 A power wheelchair is much more than the standard fold-away wheelchairs you're used to seeing at hospitals and airports. It's a technologically advanced, sophisticated piece of machinery with a variety of functions to make life easier. They usually have anywhere from 4 to 6 wheels, which make them highly maneuverable, as well as a joystick that controls their movement. A power wheelchair can go anywhere from 10-20 miles off a single charge, and usually has a variety of seat movement options so users can recline, sit upright, lean forward, or assume a variety of other positions.
There are several advantages to choosing a power wheelchair. They tend to be more compact than a mobility scooter and have a smaller turning radius, making them better for tight indoor areas like elevators, bathrooms, and narrow hallways. Power wheelchairs also have highly adaptable seating options, including different pressure redistributing cushions and backrests, foot rests, and controls that can adjust the wheelchair to just about any position, so that users with posture issues can feel more comfortable for a longer period of time.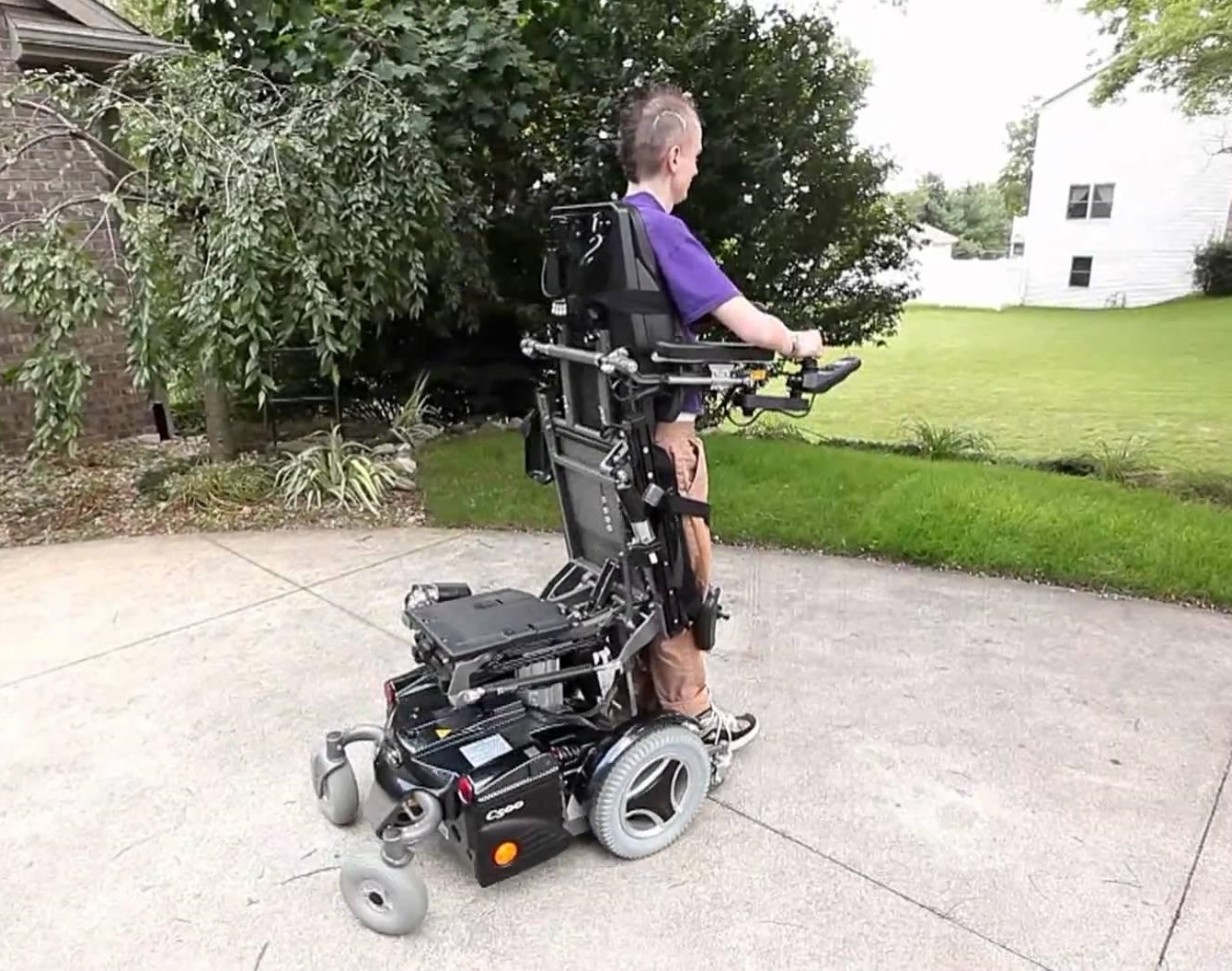 Those who are planning to use the chair in an accessible van may find power wheelchairs easier to secure, which means they provide a safer ride for seniors on the go. Finally, the fact that they are controlled by a joystick means that users who have lost dexterity in their hands, are paralyzed, or suffer from other disabilities that may make manually controlling a wheelchair more difficult can take full control of their equipment. The joystick can even be programmed to controllers triggered by mouth, eye, and foot movements, and more.
Of course, nothing is without disadvantages and power wheelchairs come with a few of their own. They are incredibly heavy, which makes them impossible to lift by yourself and difficult to move with certain lifts and trailers that cannot support their weight. Most don't fold into a smaller size either, so they won't fit in standard cars. Power wheelchairs are also quite pricey with costs starting around $4000 and reaching over $10,000, which is why they are seen as more of a long-term solution for seniors who have irreversible loss of mobility. Finally, many have a low ground clearance, making them unsuitable for uneven terrain or steep ramps.
Mobility Scooters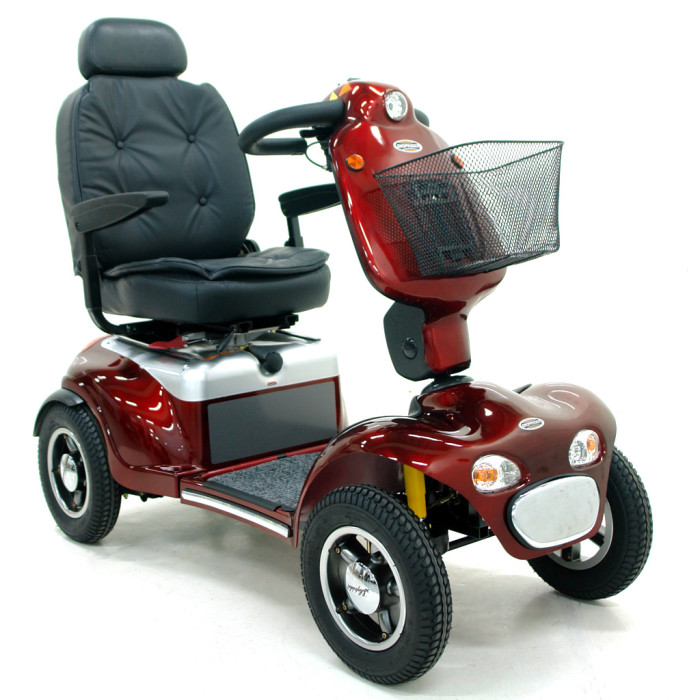 A mobility scooter is probably the most affordable and popular way for seniors with mobility issues to get around quickly and easily. Intended for both indoor and outdoor use, they can reach over 10 miles per single charge. They also tend to have an aesthetic appeal that makes them more attractive to seniors who aren't quite ready to commit to being in a power wheelchair all the time, and come in a variety of styles and colors.
There are many different types of mobility scooters on the market, including 2-wheel, 3-wheel, and other compact designs, that allow the user to  conquer almost any type of terrain or space. Most mobility scooters also come with a basket, making it easy to transport personal belongings such as a purse or some items from the grocery store. If the user plans on doing a lot of outdoor traveling, they will appreciate the fact that many mobility scooters come equipped with lights, turn signals, and other safety features. Finally, they're definitely the most cost-effective option, with some models starting around $1,500 (and even lower with certain promotions).
However, much like power wheelchairs, mobility scooters also have their disadvantages. Firstly, they are not as safe to tie down in a van, meaning they're not the best option if the user is planning on traveling long distances while seated in the chair. Also, they are not as easy to maneuver for seniors who have issues using their arms and hands as they are usually steered with a set of handlebars. Mobility scooters have a rather large turn radius, so they're not as maneuverable in tight spaces. Finally, their seats do not have the wide range of seat movements and comfort adjustments that power wheelchair seats do, so they may not be as comfortable to sit in for prolonged periods of time.
Questions to Ask Yourself
Now that you know a little more about the power wheelchair and the mobility scooter, the last thing you need to do is ask yourself a few questions to assess which option best suits the intended user's needs:
Does their insurance cover power wheelchairs or mobility scooters?
If not, what sort of budget can they afford?
Where will the machine be used? How much space is there, and what is the terrain like?
Will the machine need to be transported, and if so will they be able to get it to where it needs to go?
Is the machine for occasional use or all-day use?
Assess the answers to those questions and the information provided above, and you should have a better idea whether it is a power wheelchair or a mobility scooter which will work best for the user. Of course, if you have any questions about either product or are still unsure, you can always contact us directly. We'll be happy to help.
Tags:
mobility scooter
power wheelchair
scooter
senior mobility
wheelchair
which wheelchair is right for you?