When life gives you a wheelchair, you can't let it become a barrier, you must find a skatepark!
December 6, 2021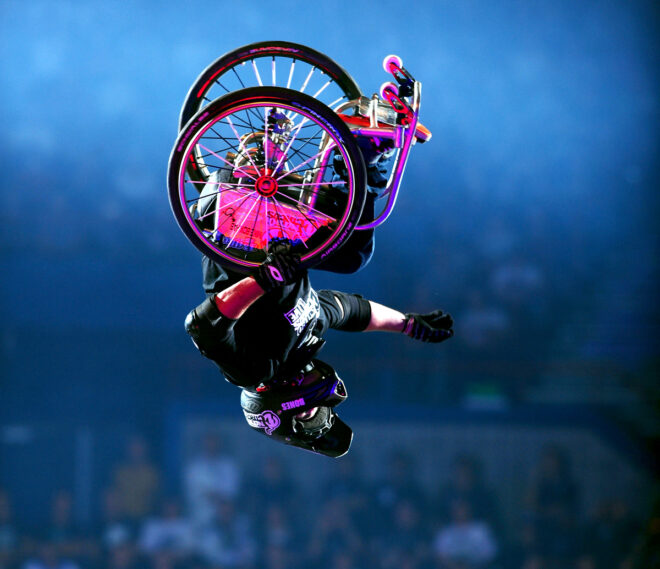 By Ammarah Siddiqui
Redefining every known norm is Aron "Wheelz" Fotheringham, a 29-year-old Motocross Athlete from Las Vegas, Nevada. Wheelz lost his legs to spina bifida yet continued with his love for all things speed, mastering his walker, crutches, and then his first wheelchair.
Wheelz followed his older brother to Las Vegas skateparks at the age of 8 and began his obsession with skateparks. Fall after fall the soon-to-be stunt star persevered and got right back up, working toward larger stunts. Encouraged by his brother and peers Wheelz entered BMX freestyle competitions and collected a range of impressive accolades. However, these awards paled in comparison to the joy this passion gifted the young athlete.
As Wheelz grew so did his accomplishments, 2005 marks the year he perfected a mid-air 180 degree turn and his subsequent wheelchair backflip, the first ever to be landed. Wheelz found himself multiple Guinness World Records and became a hero to all adrenaline seekers regardless of ability. This admiration is captured in the sheer awe of the crowd in Brazil after they watched his jump over a 50 ft gap from a mega ramp, landing perfectly on his wheelchair.
A milestone in Wheelz career came, however, when he decided to post his first backflip online. Receiving a flood of follows and shares, his digital footprint grew and so did his reach and impact. Young and old of all abilities were inspired by his tenacity and grit, spreading his story further. The accomplished athlete began his equally riveting career giving motivational speeches at schools, events, and gatherings across the world. Wheelz acted as a coach for disabled children at summer camps and continues to receive requests for appearances in magazines, shows, and newspapers. These appearances, motivational speeches, and coaching programs allow people, despite their disability, to see themselves represented in Wheelz and to be inspired by his story.
Wheelz is an inspiration to the world and so are the background players to his story. The specialized wheelchair mechanics, pit team, and technicians that worked tirelessly to create a suitable wheelchair are heroes in their own light. For someone with an affinity for speed like Wheelz, having equipment such as the Quickie Xtender Power Assist to allow their wheelchair like the M5 Corpus can satisfy this need for speed and allow everyday to become swifter. Taking into consideration safety and comfort like Wheelz' s technicians, wheelchairs like the M5 Corpus are able to provide comfortable seating and a smooth drive.
"When life gives you a wheelchair, you can't let it become a barrier, you must find a skatepark."-  Aron "Wheelz" Fotheringham.