Air and Powered Mattresses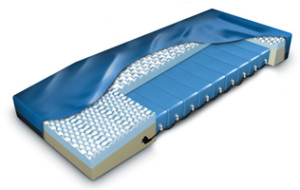 * All prices subject to change.
AtmosAir 9000 Mattress with SAT
$3495
The AtmosAir™ with SAT™ 9000 Mattress Replacement System utilizes an "open-pressurized", Self-Adjusting Technology™ (SAT) system consisting of nine transversely positioned cylinders located under the shoulders, torso and seat.
The AtmosAir with SAT 9000 Mattress Replacement System offers advanced features and benefits to provide clinically effective pressure redistribution and optimal patient comfort, including:
Self-Adjusting Technology helps maximize body weight displacement and minimize tissue interface pressure by automatically reacting to body movement, altitude and temperature by adjusting the internal air pressure
Nine air cylinders offer additional support under the shoulders, torso and seat through non-powered pressure reliefvia nine zones of horizontal pressure redistribution
Firm perimeter provides seating support for the caregiver or patient
Sloped heel section helps to transfer weight off of the delicate heel and onto the calf and thigh area of the leg
Dimensions
Length: 75-84" by 1"
Width: 32-37" by .5"
Depth: 7"
Weight: 33 lbs.
Foam: Anti-microbial
Maximum recommended patient weight*: 500 lbs
Flammability All mattresses meet TB 106 and TB 117 standards TB603, ASTM E 1590, TB 129 and BFD IX-II compliant
Available with an optional fire sleeve
Warranty This product has a five year non-prorated warranty
Installation and Delivery Pricing
Anything that needs to be installed can be done by our trained technicians and installers. Have us do the work for you!
Installation and Delivery Zone Table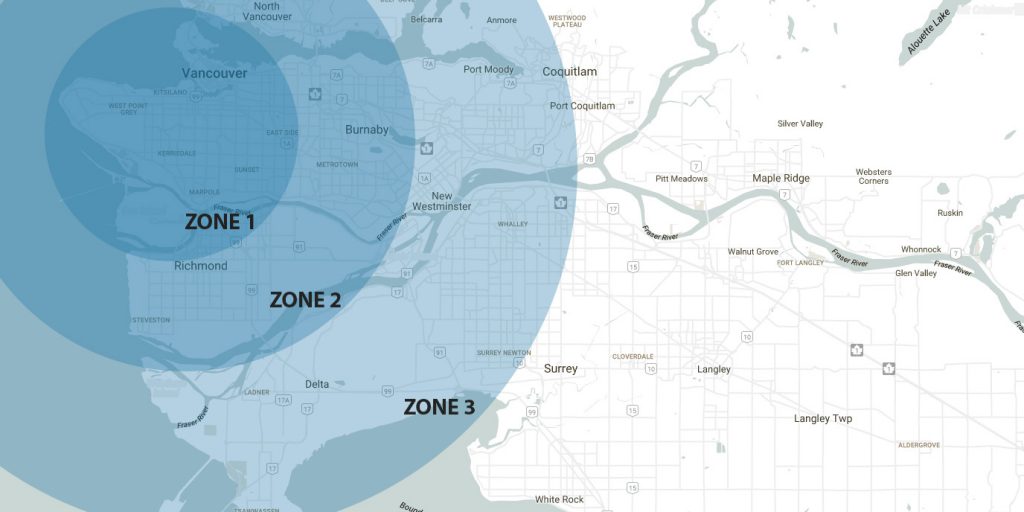 We offer a range of different services to suit your home health care needs. Everything we sell on our site comes with installation and delivery; a quality service given by our team of trained technicians and installers.
We install everything we sell. Have us do the work for you; our highly trained technicians and installers can install your equipment when you need it and where you want it.
If you're not sure which product will fit into your home, our trained staff can bring multiple options to your home so that you can select the best one.
Pricing
Installation Rates
| | |
| --- | --- |
| Setup by a Macdonald's Trained Technician or Installer | Call out Rate |
| Zone 1 | $75 |
| Zone 2 | $85 |
| Zone 3 | $105 |
| Zone 4 | $125 |
| | |
| --- | --- |
| Basic set up* | $20 |
| Standard set up** | $50 |
| Set up and training*** | $75 |
*Basic Setup includes delivery and setup to client specifications of equipment not requiring installation. eg. bath seat, bath transfer bench.
**Standard Setup includes anything that requires installation or removal. eg. handheld shower, bolt-on toilet seats, removing toilet seat bolts, removing shower doors.
***Set up and training includes items like patient lifts, Roho mattresses, low air loss mattresses. Products that require training time.
Our Rehab Store at 148 West 6th Ave has a showroom for larger mobility devices, a workshop, and our talented staff to help you with questions or repairs. Come to the Rehab Store if, for example, you're looking to try out a wheelchair, scooter, lifts, or get repairs on a mobility device.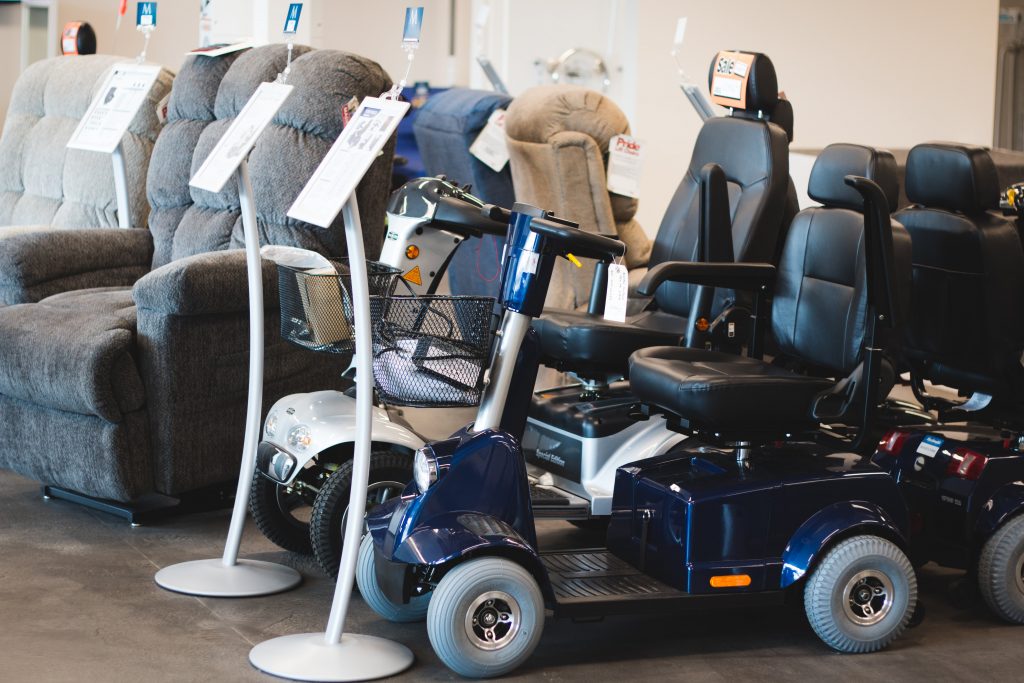 Store hours:
Macdonald's HHC Rehab Store –  148 West 6th Ave
Monday to Friday,  8 a.m. – 5 p.m.
Closed on Holidays and weekends
Our Holiday Homecare Bed Sale is on now! With discounts of up to 20% you could save $800!
Summer is here – Enjoy! Find some water/sun/shade, some good company, and have a great summer!! Our 3rd Annual Mobility on the Bus Roadtrip is coming up fast! ***July 17th*** Are you a therapist wondering how to help your client navigate public transit? Join us on July 17th for 'Mobility on the Bus' and pick up […]
***July 17th, 2019*** Wondering how to help your client navigate public transit? Join us to get a refresher on 'Mobility on the Bus' and pick up some tricks and tips from the Translink professionals!