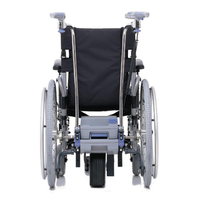 * All prices subject to change.
Viamobil
Designed in a modular system, the viamobil can easily be disassembled in its various components. None of the parts weighs more than 13 kg (28.7 lbs). The wheelchair remains fully foldable and is thus ideal to transport. Viamobil slopes and gradients up to 18% can be safely surmounted without physical power needed from the attendant. There is still enough leg room for the attendant for a comfortable walk behind the wheelchair.
The SmartDrive is amazingly powerful. It will push you up the steepest hills, through the thickest carpets, and over the most plush grass. You will go further, do more, and live more freely than you ever imagined! Visit us on October 27th for an update on the SmartDrive from Quart Healthcare and as always […]
Trying to decide between a power wheelchair and a mobility scooter? Click to learn more about each and how you can choose which one is right for you!
Visit us on June 18th for our Monthly Therapist Lunch & Learn. Gail from Westech Health will be here to review the Physipro lineup of products. As always, we will be serving up some delicious food from The Dirty Apron Deli! RSVP below as space is limited: Loading…