Lightweight Folding Wheelchairs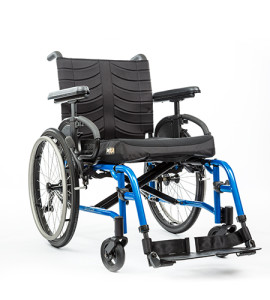 * All prices subject to change.
Quickie QX Wheelchair
From $1750
The Quickie QX is a durable, low maintenance wheelchair frame that is perfect for the person looking for simplicity, longevity, and Quickie's most popular options at the right price.
The new Quickie QX has a vertically adjustable axle plate while the QXi has both vertical and horizontal adjustability.
Lightweight
Lighter weight, the Quickie QX provides the riders with more! With a weight capacity of 265 lbs. it folds easily and can be moved in and out of the car effortlessly.
Safety First – Transit Approved!
Available in standard or hemi frame, for a lower seat-to-floor height, the new Quickie QX is WC19 compliant. Making it safer to use for errands or any other places the rider needs to go!
New Back Upholstery
New EXO Upholstery. Modern comfortable design, the new back upholstery is offered in standard version or tension adjustable.
Starting Retail Price
$1,750
Frame Style
Folding
Wheelchair Weight
28 lbs.
Frame Material
Aluminum
User Weight Capacity
265 lbs.
Transit Approved
Yes
Shipping Dimensions
33″ L x 38″ H x 13″ W
Average Shipping Weight
50 lbs.
FRAME AND FEATURE MEASUREMENTS
Seat Widths
14″ to 20″
Seat Depths
14″ to 20″
Frame Angle
N/A
Front Seat-to-Floor Height
12.5″ to 19.5″
Rear Seat-to-Floor Height
12″ to 19″
Lower Leg Length Setting
11.25″ to 16.5″
Back Height
13″ to 20″
Angle Adjustable Backrest Adjustment Range
-14° to +5°
Camber
0° and 3°
Tilt Range
N/A
OPTIONS AND ACCESSORIES
Frame Type
Standard
Hemi
Special Packages
N/A
Tilt Release Options
N/A
Frame Inset
N/A
Caster Wheels
4″ Low Profile Polyurethane
4″ x 1.25″ Semi Pneumatic
5″ Low Profile Polyurethane
5″ x 1.5″ Semi-Pneumatic
6″ Polyurethane
6″ x 1.5″ Semi Pneumatic
8″ Polyurethane
8″ x 1.5″ Semi Pneumatic
Caster Options
N/A
Hangers
60° Swing In/Out Hanger
70° Swing In/Out Hanger
80° Swing In/Out Front Mount
Elevating Legrests (Front Latch)
Articulating Hanger
Elevating Hanger
Elevating Hanger Front Mount
Footplates
Composite
Aluminum Angle Adjustable
Aluminum
Footplate Options
Heel Loops
Extension Tubes
Axle
Quick Release Steel
Quad Quick Release Steel
Axle Plate
Standard
Rear Wheel Type
20″ Mag Wheel
22″ Mag Wheel
24″ Mag Wheel
20″ Lite Spoke Wheel
22″ Lite Spoke Wheel
24″ Lite Spoke Wheel
25″ Lite Spoke Wheel
26″ Lite Spoke Wheel
Rear Wheel Tire
Pneumatic
Pneumatic with Airless Insert
Full Poly
High-Pressure Clincher
Handrims
Aluminum Anodized
Plastic Coated
Natural Fit – Standard Grip
Natural Fit – Super Grip
Hub Lock
N/A
Suspension
N/A
Backrest Type
Standard
Angle Adjustable
Back Post Options
Integral Push Handles
Fold-Down Push Handles
Backrest Options
N/A
Back Upholstery
Standard
Tension Adjustable Ballistic Nylon
Tension Adjustable 3DX Vented
J3
Armrests
Padded Swing-Away
Single Post Height Adjustable Standard
Single Post Height Adjustable Low
Flip Back Height Adjustable LITE
Dual Post Flip Back Height Adjustable
Arm Pads
Desk Length – Classic
Full Length – Classic
Wheel Locks
High Mount Push
High Mount Pull
Compact
6″ Extension Handle Pair
Seating
Seat Sling Depth Adjustable
Power Assist
N/A
Grade Aid
N/A
Anti-Tips
Rear Anti-tips
Side Guards
Plastic – Standard
Plastic – Low
Side Guard Options
N/A
Positioning Belts
1.5″ Auto Buckle with Clamps
Positioning Belt Side Clamps
Tray Tables
N/A
Accessories
Quickie Backpack
Seat Pouch
Caddy
Black Spoke Guard
Gel Cover Hanger/Frame
Gel Cover Swing-Away Armrest
Crutch Holder
Frame Colour Options
Black
Black Opal
Blue Opal
Candy Blue
Candy Red
Anodized Colour Options
N/A
Mobility aids are an essential element of senior health care. Here, we take an in-depth look at mobility aids, and highlight some of the aspects you should consider when choosing the perfect fitting wheelchair.
Mid-wheel drive power chairs are aligned with your center of gravity, giving you a very sturdy ride. The drive wheels are typically located directly under the user, and equal parts of the rest of the chair are in front of, and behind your body, which improves balance. Let's take a look at some of the best mid-wheel drive power wheelchairs we carry.
Since 2008 a Montreal-based company called Motion Composites has been innovating the wheelchair industry by producing a line of high quality, extremely maneuverable and lightweight wheelchairs that are the finest in their class; and it all started with a project in college. Co-founders Eric Simoneau and David Gingras produced the first of their now famous […]