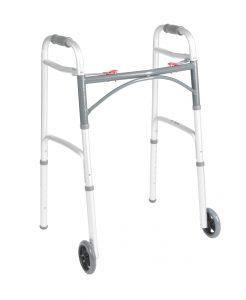 * All prices subject to change.
Walker – Deluxe Folding Walker, Two Button with 5″ Wheels
$169
Easy push-button mechanisms may be operated by fingers, palms or side of hand
Each side operates independently to allow easy movement through narrow spaces and greater stability while standing
Sturdy 1″ diameter aluminum construction ensures maximum strength while remaining lightweight
Newly designed rear glide cap allows for walker to slide easily and smoothly over most surfaces

(Figure A)

Vinyl-contoured hand grip
Here MacDonalds HHC, we take medical health care products and aids to daily living very seriously. Read on to see our top 10 list of gadgets designed to help seniors age in place.
Since 2008 a Montreal-based company called Motion Composites has been innovating the wheelchair industry by producing a line of high quality, extremely maneuverable and lightweight wheelchairs that are the finest in their class; and it all started with a project in college. Co-founders Eric Simoneau and David Gingras produced the first of their now famous […]
2015 Rehab Equipment Expo Details