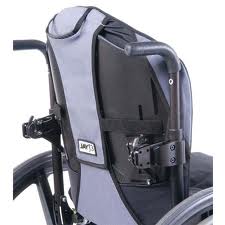 Jay 3 Backrests
From $535
The JAY® J3™ backrest product line offers a multitude of width, height, and contour depth back shells to fit the back to the client. Each back is lightweight and adjustable, with numerous hardware choices allowing for easy installation.
Click here to download the Jay 3 Back order form.
NEW! CradleU Lateral and Whitmyer® Headrest Options
Designed for clients with postural or spinal deviations – including wider trunks and narrow hips, narrow trunks and wider hips, or curvatures – the NEW CradleU Lateral reshapes the existing contour of the off-the-shelf J3 back to match the client. The CradleU adjusts the contour by attaching directly to the J3 back shell beneath the foam, while the support plates adjust in angle to match the user's torso. The CradleU's intuitive design provides seamless support that minimizes interference with propulsion.
Also new to the J3 back are the Whitmyer Heads Up™ and Adjust-a-PLUSH headrest pads and LINX and ONYX headrest mounts!
Three Contour Depths
The Jay J3's solid shell is available in three contour depths to provide posterior and lateral pelvic and lateral thoracic stability to clients with varying postures and functional needs.
• Posterior – 2.2″ of lateral thoracic support
• Posterior & Lateral – 3″ of lateral thoracic support
• Posterior & Deep Lateral – 6″ of lateral thoracic support
• Posterior & Deep Contour – 6″ of lateral pelvic support
Four Support Height Levels
The JAY J3 back is available in four support height levels to provide support for clients with wide ranges of torso heights and levels of injury.
• Lower Thoracic – 6.5″ to 9.5″
• Mid Thoracic – 12″ to 15″
• Upper Thoracic – 16.5″ to 19.5″
• Shoulder – 21″ to 24″
Five Hardware Options
The J3's hardware offers angle and width adjustability to improve visual orientation and function. Five options are available to accommodate a spectrum of client priorities and wheelchair configurations.
• 2-point (Standard or Extended) – easy to install, quick-release hardware that allows for numerous attaching positions
• 4-point (Standard or Extended) – quick-release hardware that withstands greater force by distributing across four mounting locations
• Lite Mount (pictured at right) – fixed hardware for a rigid mount that adds only .61 lbs.
Microclimatic Cover with 3DX™ Spacer Fabric, Lycra® Outer Layer, and Optional Inner Cover
The J3's Microclimatic cover features a wicking material and a layer of 3DX space fabric to promote airflow and dissipate heat and moisture, keeping the client clean and dry. The new Lycra top surface provides a smooth, soft sitting surface that resists snagging and catching on clothing.
The J3's new, optional inner cover provides extra protection against moisture and odor build-up.
– See more at: http://www.sunrisemedical.ca/products/jay/backs/jayj3back.aspx#sthash.isHI2DMW.dpuf
Technical Specifications

Starting Retail Price

Posterior: $535
Posterior & Lateral: $625
Posterior & Deep Lateral/Contour: $750

HCPCS Code

Posterior: E2613/E2614
Posterior & Lateral: E2615
Posterior Deep Lateral & Posterior Deep Contour: E2620

Width Range

12″ to 26″

Height

Lower Thoracic: 6.5″, 8″, 9.5″
Mid Thoracic: 12″, 13.5″, 15″
Upper Thoracic: 16.5″, 18″, 19.5″
Shoulder Height: 21″, 22.5″, 24″

Product Weight

1.7 lbs. and up (without hardware)

Weight Capacity

12″ to 20″ widths: 300 lbs.
22″ to 26″ widths: 500 lbs.

Hardware Options

2-Point
4-point
Lite Mount
Heavy Duty 4-Point

Hardware Angle Adjustability

22°

Hardware Width Adjustability

+2″

Wheelchair Frame Tubing Compatibility

3/4″ to 1 1/8″

Headrest Mount Available

Yes

JAY Your Way Modifications Available

Yes

Shell

Lightweight, contoured

Lateral Contour Support

Posterior: 2.2″
Posterior & Lateral: 3″
Posterior & Deep Lateral/Contour: 6″

Foam Insert

1 1/2″ soft foam

Outer Cover

Spacer Fabric and Lycra® Stretch Outer Layer

Optional Positioning Accessories

Spine Align Posture Conforming Inserts
Lateral Thoracic Pads
Chest Straps/Harnesses
Whitmyer® Head Supports
Come visit us on April 13th to review the lineup of Joerns Healthcare products, including the Easy Care Bed! As always we will be serving up some delicious food from The Dirty Apron Deli! As a premier supplier, Joerns Healthcare is revolutionizing healthcare through an unmatched suite of advanced injury and wound prevention, patient […]
Check out the new and interesting items we found at the International Seating Symposium!
Jane Fontein, occupational therapist with 30 years of experience, will visit Macdonald's Home Health Care on January 20 to review the newest addition to the Vicair wheelchair cushion line – the Vector O2 washable cushion. As always we will be serving up some delicious food from The Dirty Apron Deli! Jane Fontein has been an Occupational Therapist for more […]