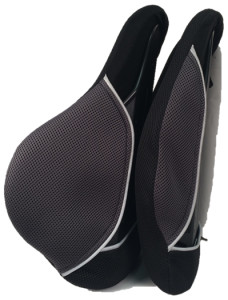 NXT FHT Backrest
From $690
•AC Back [Active Contour] has a gentle 3″/8cm contour that provides excellent postural support that is ideal for the active user who wants style, comfort & support
•PC Back [Plus Contour] has an adjustable depth 5.5″ – 7″ (14 – 18 cm) contour for optimal midline support & positioning with extra lateral support. Ideal for users who need mid to upper thoracic or shoulder height support & excellent posterior lateral support
•Breathable, moisture resistant washable spacer fabric cover with antimicrobial protection
•16″ – 20″ widths: 300lbs/136.1kg weight capacity
•22″ width: 400 lbs/182 kg weight capacity
Quickfit™ Mounting Hardware
• Quick and easy to adjust while client is in the chair.
• 50 degrees of angle adjustment.
• 5" of depth adjustment: 2.5" in front and 2.5" behind back canes.
• Fits metric and imperial tubing including, 1″-2.5cm, 7/8″-2.2cm or 3/4″-1.9cm back canes without shims
• Clamps open wide for installation/removal without taking them apart.
• Fits 3 widths of chair by adjusting the shell mounts (ie. 16″ back fits 16″, 17″ & 18″ chairs)
• Provides rotation adjustment for pelvic or trunk rotation.
• One hand quick release for easy removal to fold chair or transport.
Come visit us on April 13th to review the lineup of Joerns Healthcare products, including the Easy Care Bed! As always we will be serving up some delicious food from The Dirty Apron Deli! As a premier supplier, Joerns Healthcare is revolutionizing healthcare through an unmatched suite of advanced injury and wound prevention, patient […]
Check out the new and interesting items we found at the International Seating Symposium!
Jane Fontein, occupational therapist with 30 years of experience, will visit Macdonald's Home Health Care on January 20 to review the newest addition to the Vicair wheelchair cushion line – the Vector O2 washable cushion. As always we will be serving up some delicious food from The Dirty Apron Deli! Jane Fontein has been an Occupational Therapist for more […]